More businesses in the Philippines already use or plan to use custom mobile applications according to this year's State of Mobility Survey conducted by Symantec Corp. The survey highlighted an uptake in mobile applications with 72 percent of enterprises at least discussing deploying custom mobile applications and 20 percent currently implementing or have already implemented custom mobile applications.
This adoption of mobile applications demonstrates remarkable confidence by organizations in the ability for mobility to deliver value.

"We are seeing a cultural shift and rapid adoption in mobile devices among organizations in the Philippines- from refusing mobile devices not long ago to actively distributing and developing mobile applications today. This has introduced a new set of challenges and complexities for IT staff," said Luichi Robles, senior country manager of Symantec Philippines.
He added, "From a security perspective, it is encouraging to see that a majority of organizations in the Philippines are thinking beyond the simple case of lost or stolen mobile phones and looking into implementing security measures to keep their corporate information safe."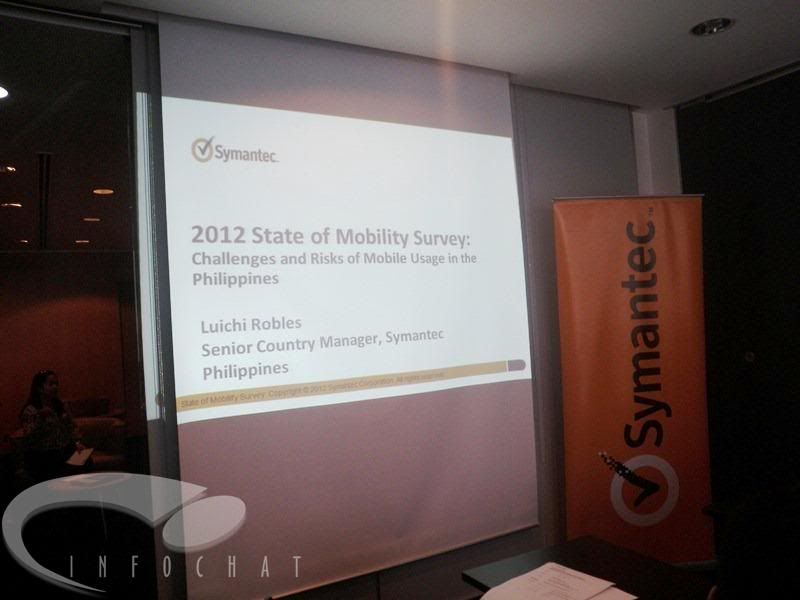 The survey shows that 74 percent of the respondents expected to see increased efficiency and 70 percent actually saw efficiency gains after implementing. Furthermore, 71 percent of respondents are now relying on mobile devices for line-of-business applications, another sign that mobility has graduated to mainstream status.
However, more than half (56 percent) of survey respondents in the Philippines mentioned that mobility is somewhat too extremely challenging and a further 45 percent identified mobile devices as one of their top three IT risks.
Christine Tee, technical consultant for Symantec Philippines said, "Many organizations in the Philippines are taking necessary measures to mitigate potential losses. Ensuring adoption of best practices and investments toward a comprehensive security framework can ensure that mobile computing's benefits far outweigh its challenges."
IT is striking a balance between mobile benefits and risks by transforming its approach to mobility to deliver improved business agility, increased productivity and workforce effectiveness.
IT and C-level professionals from 150 small businesses and enterprises participated in the survey which was conducted from August to November 2011.
Symantec Corp. is a global leader in providing security; storage and systems management solutions to help consumers and organizations secure and manage their information-driven world.
INFOCHAT: Symantec survey reveals significant adoption of Enterprise Mobile Apps